I don't know about you, but the first time I bought a digital embroidery pattern and tried to transfer it to my fabric I was stumped! How was I supposed to get the pretty pattern from my screen to a piece of fabric? Luckily I figured out pretty fast that learning how to transfer embroidery is actually really easy. Follow along as we learn three simple methods for transferring embroidery from screen to paper to fabric.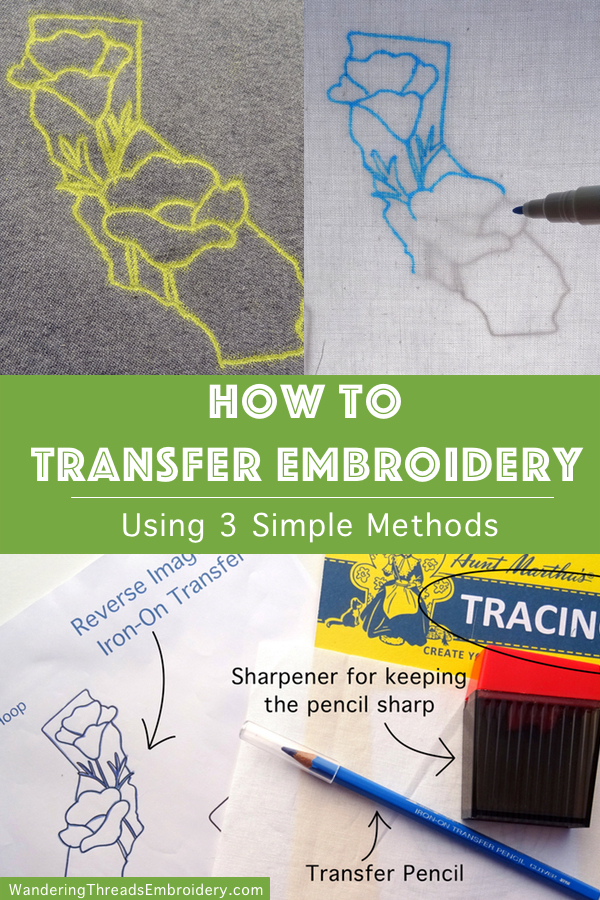 Trace It!
This method uses a water-erasable pen or pencil along with a bright window or light box to trace the pattern from paper to fabric. I have tried a LOT of different transfer pen and pencils with varying results. In general, I prefer a pen over a pencil. The pen allows for thinner lines that work well for patterns with fine details. I have also learned to avoid the air-erasable pens because the lines disappear way faster than I can possibly embroider!
My all-time favorite water-erasable pen is the Leonis Water Erasable Marking Pen. The tip stays sharp, the ink lasts for a long time, and it washes out with only a quick rinse of water. You can find these pens in many craft stores or on Amazon where you can get a 10-pack for only $15.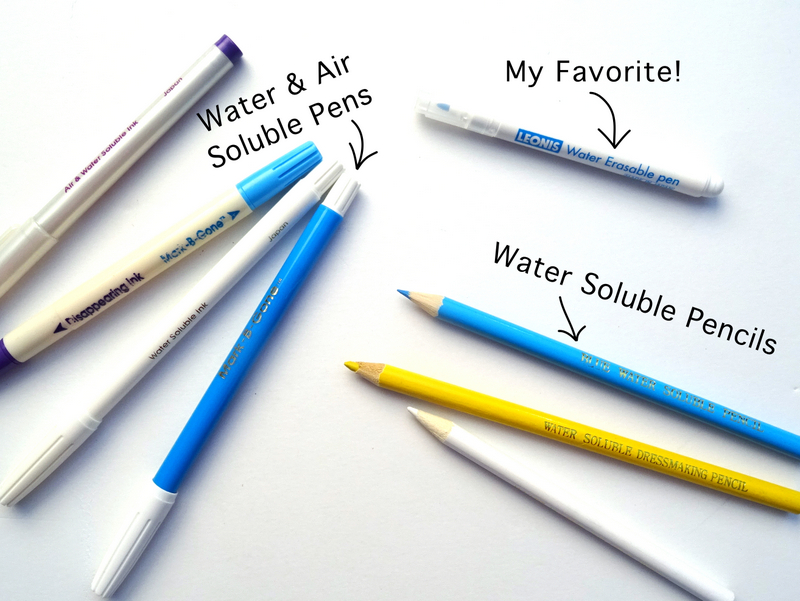 Once you've sourced a good tracing pen, print the pattern and place it on a light table or tape it to a bright window. Position the fabric on top and secure it well. Trace the pattern onto the fabric using the transfer pen. *Pro tip: A computer or tablet screen makes a great lightbox! Simply open the embroidery pattern on your computer, tape the fabric over the pattern on the screen, and trace it using the pen. No printer needed!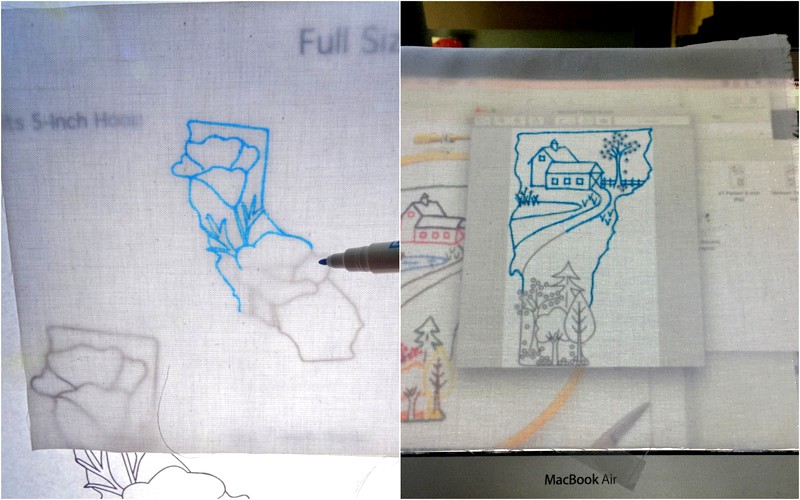 Iron It!
For this method, you will need an iron-on transfer pen or pencil which can be bought at most fabric/sewing stores. I prefer to use a Clover Iron-On Transfer Pencil. The thing to remember when using the Iron-on method is that the marks will rarely if ever wash out completely. Only after repeated washing and scrubbing have I had any luck removing iron on marks. As a result, this transfer method should be considered permanent and will need to be completely covered by the embroidery.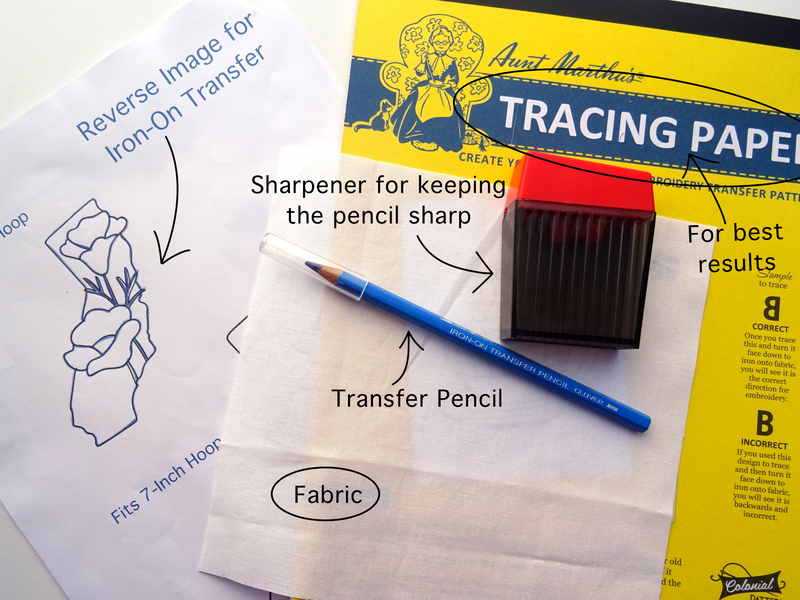 Start by printing the reverse image of the pattern. This is crucial because if you use a regular pattern it will transfer backward onto your fabric. (Reverse patterns for iron-on transfer are included with all the Wandering Threads Patterns). Using the iron-on pen or pencil, you can trace directly over the printed pattern, or cover it with a piece of tracing paper and trace over top. I prefer the tracing paper because I consistently get better results when using it. Be sure to press firmly and use even strokes.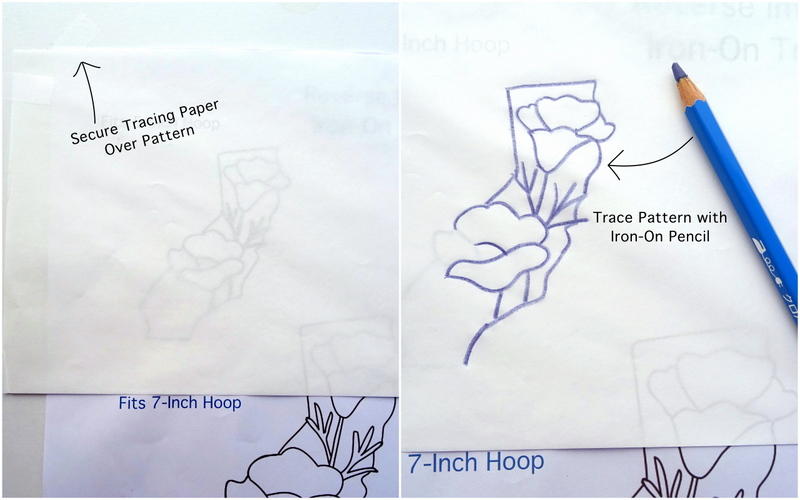 Place the traced pattern onto an iron-safe surface. Put the fabric on top and secure with tape. Press a hot iron on top of the fabric for at least 10 seconds without moving the iron around. Gently lift one edge of the fabric to check that the design has transferred before removing the fabric.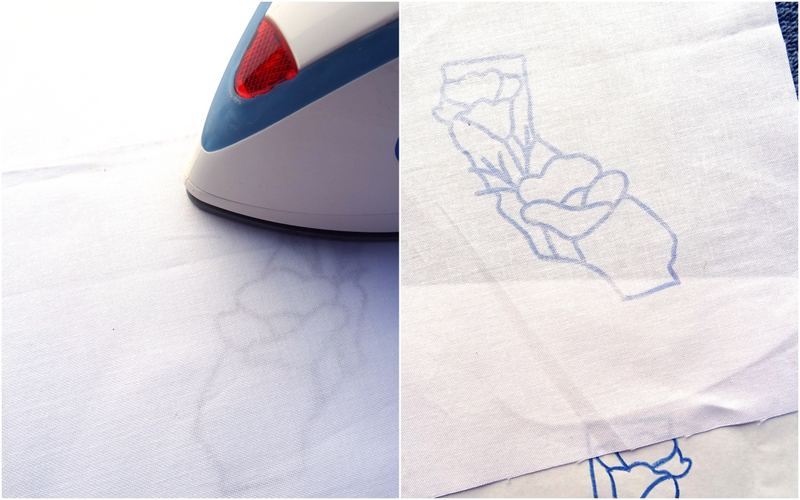 Transfer It!
Finally, we have the transfer paper method. In my opinion, this is the very best way to transfer a pattern to dark fabric. You can buy transfer paper at most fabric or craft stores. It is available in different colors and is sometimes called Dressmaker's Carbon Paper. This special paper is coated on one side with a powdery ink that transfers to the fabric.
It will wash out eventually but takes a little work. For this reason, I only use it on dark fabric as I've had a hard time completely removing the marks from white or light colored fabrics. Transfer paper is often sold in a package containing several different colors. The light colors show up really well on dark fabrics. Because I love embroidering on dark fabrics (like these fun embroidery bags) I went ahead and bought a roll of Yellow Saral Transfer Paper. It works great and I like that I can simply cut off a piece the exact size that I need.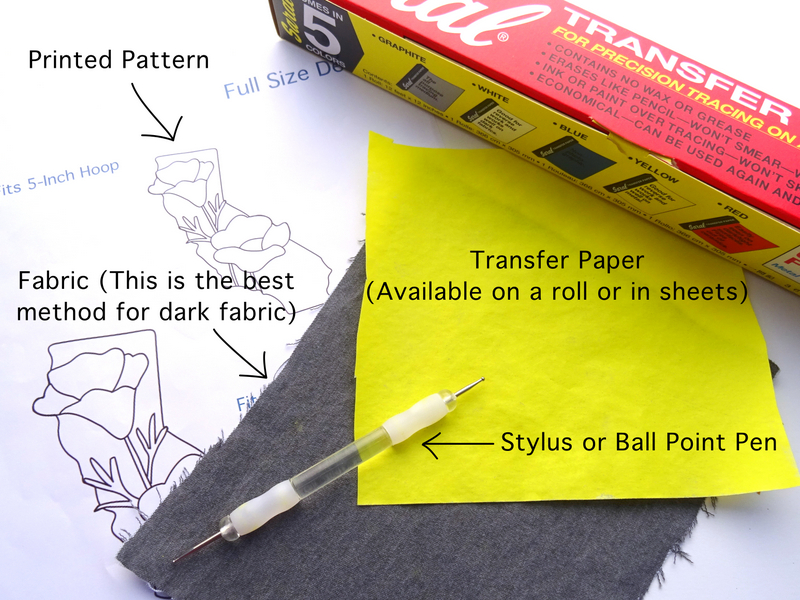 To use, secure your fabric to a flat, hard surface, cover with a piece of transfer paper (powder side down) and place the printed pattern on top. Trace the pattern using a pencil, fine-tipped pen, or stylus. Press very firmly and make sure the paper does not move. Keep in mind that the transfer lines from this paper fade fast. After 24 hours you will only see faint lines. If you are transferring a large pattern, or one that you don't plan to finish embroidering in less than a single day, only transfer a small portion of the pattern, stitch, then repeat the transfer process for the remaining portion of the pattern.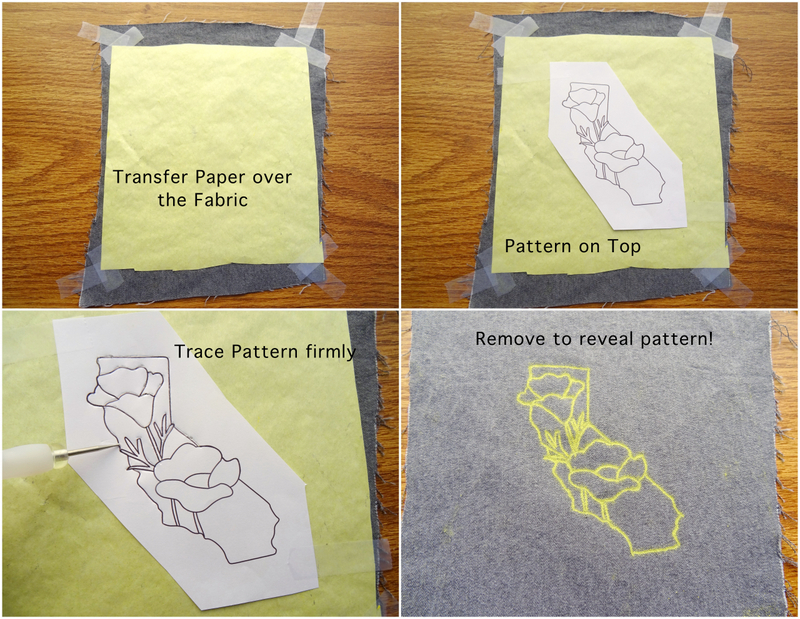 Now that you know how to transfer embroidery, get out there and start stitching!

But wait…there's one more transfer method: How to use Stick & Stitch Embroidery Transfer Paper
**Some of the items on this page are part of our Amazon affiliate store. Wandering Threads Embroidery is paid a small percentage if you click through and purchase an item. The prices are the same as buying directly from Amazon and the funds help cover the cost of running this site. Thanks so much for your support!