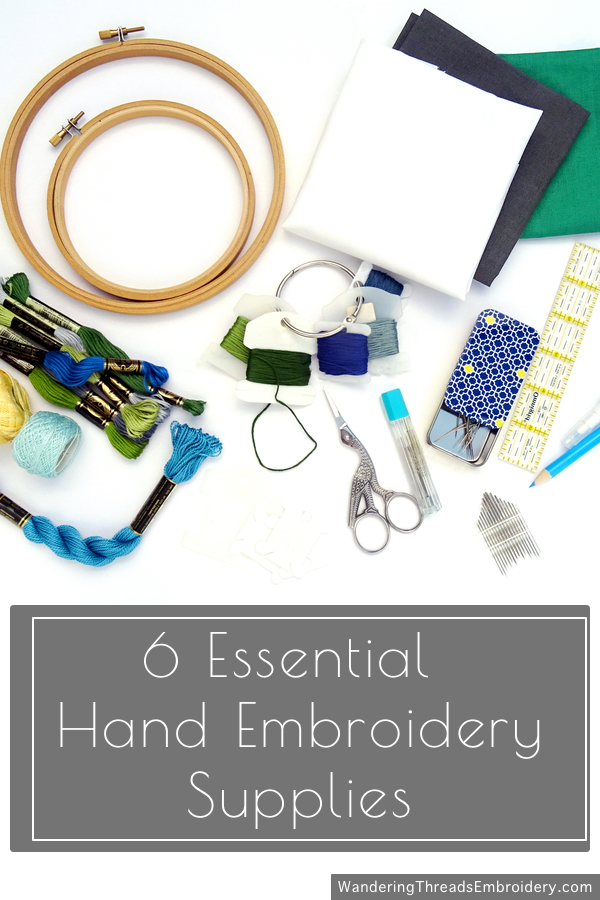 A few essential hand embroidery supplies are all you need to get started stitching and creating works of art.
Fabric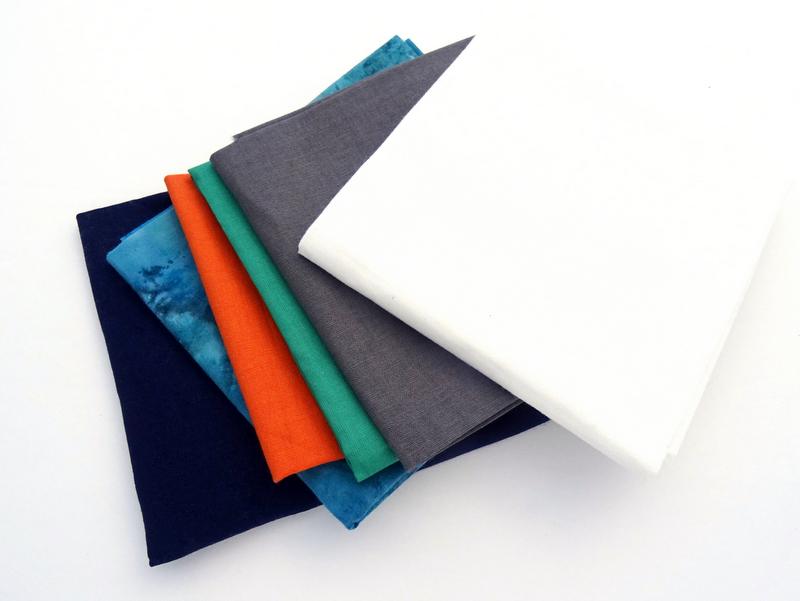 In general, you can embroider on any fabric. Cotton, wool, linen, felt, or even denim and leather, can be used as a canvas for creating beautiful embroidery. However, keep in mind that thicker fabrics require sturdier needles, and thinner fabrics have a tendency to pucker when stitching bold embroidery letters or filled in shapes. When in doubt, stick with cotton or linen-cotton blend fabrics with a medium weave.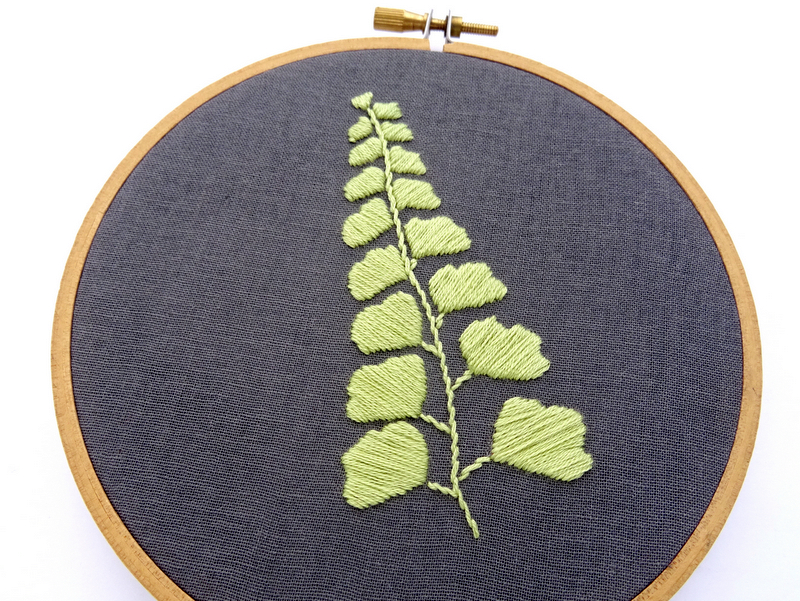 Colored fabrics are great for embroidery. Don't be afraid to experiment by stitching dark fabrics with light or bright colored floss. I love this fern pattern on white fabric, but I love it even more stitched on dark grey linen!
Embroidery Floss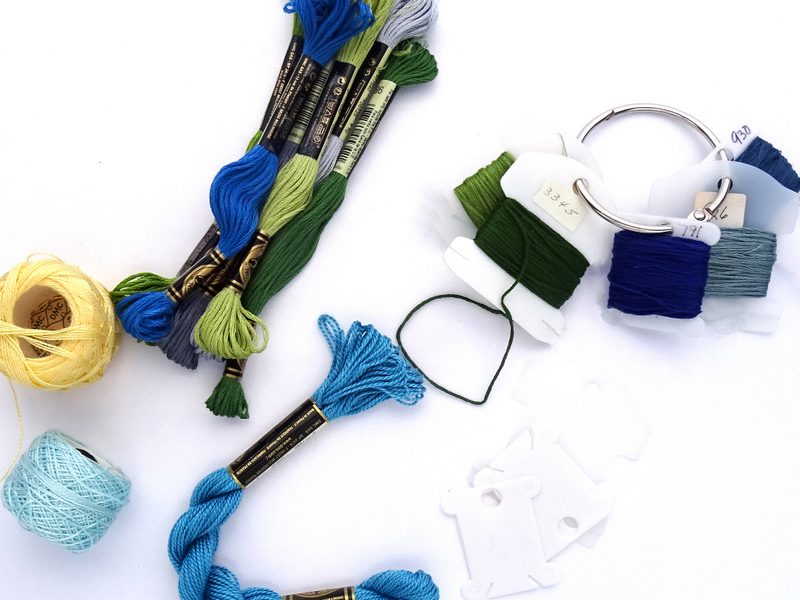 Stranded Cotton
By far the most common embroidery thread is stranded cotton floss made by DMC. It comes in skeins with 6 strands that you can use either all together as a thicker floss or split into a smaller number of strands for varying embroidery effects. DMC floss comes in a multitude of colors — each with their own unique assigned number. All of the hand embroidery patterns here on Wandering Threads Embroidery include a list of recommended DMC cotton floss colors. DMC floss is sold at most sewing and craft stores.
Pearl Cotton
Another popular option is two-stranded pearl cotton floss. Consisting of two threads twisted together, this floss is intended to be used as one piece and produces a result that is thicker and shinier than stranded cotton. The most common brands of pearl cotton are DMC and Anchor.
Wool, Silk, Sewing Thread & More
In theory, you can use any kind of thread for embroidery. Don't be afraid to experiment. Wool embroidery thread is commonly used in Crewelwork while silk thread can be found in Japanese Embroidery.
Needles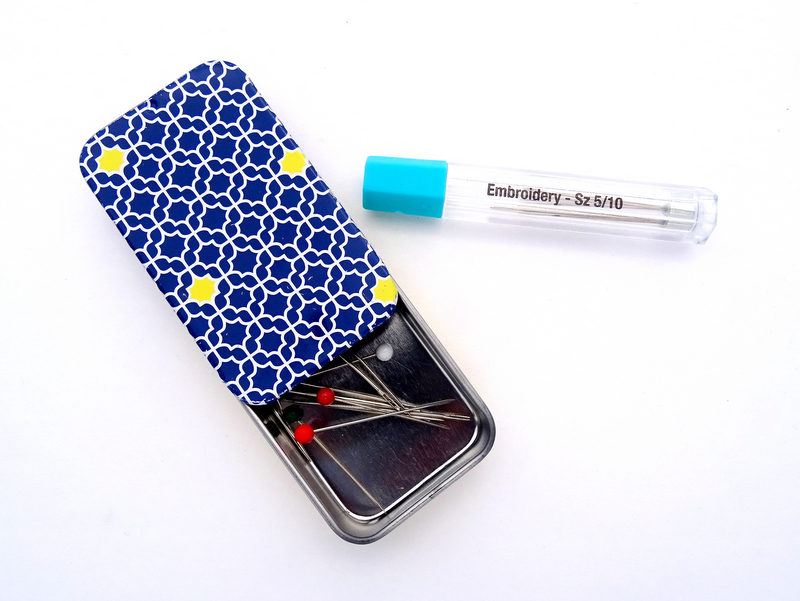 Embroidery or Crewel Needles
This type of needle has a medium-sized eye slightly larger than the shaft of the needle. They come in sizes 1-12 with 12 being the smallest. The idea is to choose a needle large enough for your thread choice to fit through the eye, but not so large that it leaves an unsightly hole in the fabric. I tend to choose a size 3 or 4 when using all 6 strands of DMC floss (or pearl cotton) and a size 8 or 9 needle for almost everything else. Embroidery needles often come in packages containing multiple sizes which makes it easy to try out different needles.

Needle Storage
Since no one wants loose needles floating around, using some type of needle storage is key.
Magnetic Needle Box:
These boxes are made of metal or plastic and contain a magnet inside to hold the needles. I like this option for storing all the needles I am using for my current project.
Needle Storage Tubes:
Another small and simple storage solution. These tubes are great for long term needle storage. Each plastic tube has a magnet at the bottom that holds the needles in place. Simply flip the tube upside down and the needles slide out in a fan shape while staying attached to the magnet. I have labels on my storage tubes so I know what size needles are in each one.
Needle Minder:
Since I am constantly finding my needles on the floor, on the couch, and in even in my clothing(!), using a needle minder is a must. This super simple product is basically just two strong magnets stuck together on either side of your project, creating the perfect spot to hold your needle. No more needles on the couch!

Embroidery Hoops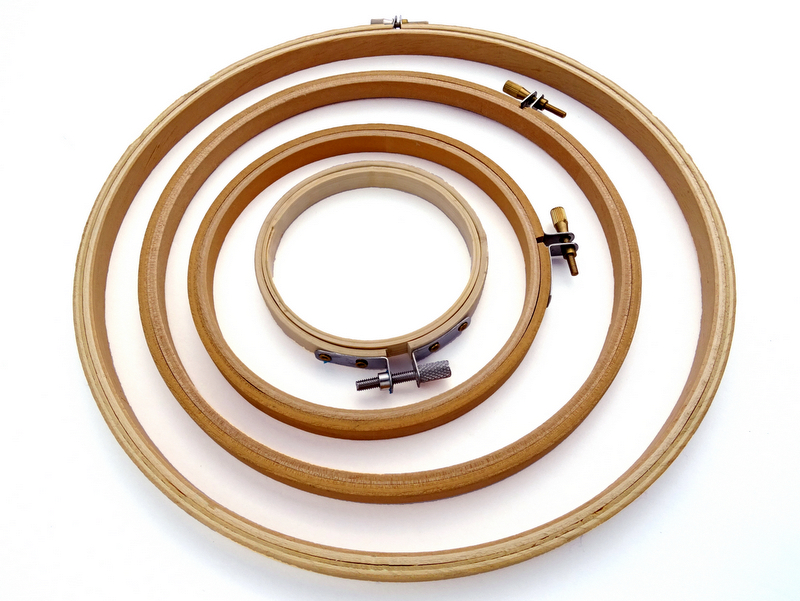 Embroidery hoops stretch the fabric tight so it's easier to embroider while preventing wrinkles or puckering. While, technically, you can embroidery without them, I consider hoops to be essential on any list of hand embroidery supplies.
They come in a wide variety of sizes, shapes, and materials with the most common being round hoops made from wood. You can purchase them at nearly any craft store, or on Amazon in quantities or sets of sizes. Wooden hoops are also perfect for framing inside the hoop or making cute little wooden framed ornaments.
How to Finish an Embroidery Hoop
Scissors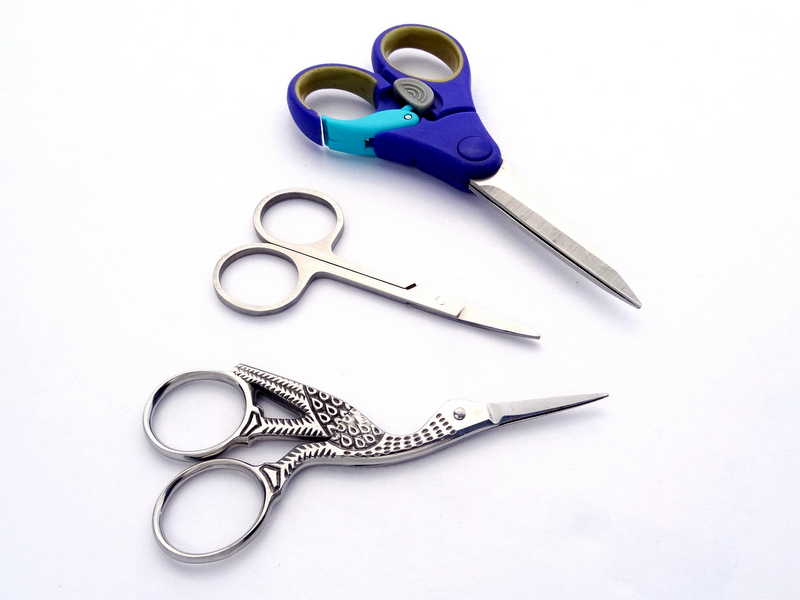 The truth is that you don't need embroidery scissors for embroidery. But you do need scissors to cut your thread ends, trim the fabric around your hoop, and occasionally, snip out a mistake stitch or two. For these purposes, it's handy to have a pair of scissors with small blades and wide comfortable handles. Look for those with narrow blades between 1-2 inches long. It can also be useful to keep a pair of larger dressmaker scissors for cutting fabric on hand.
Fabric Marking Pens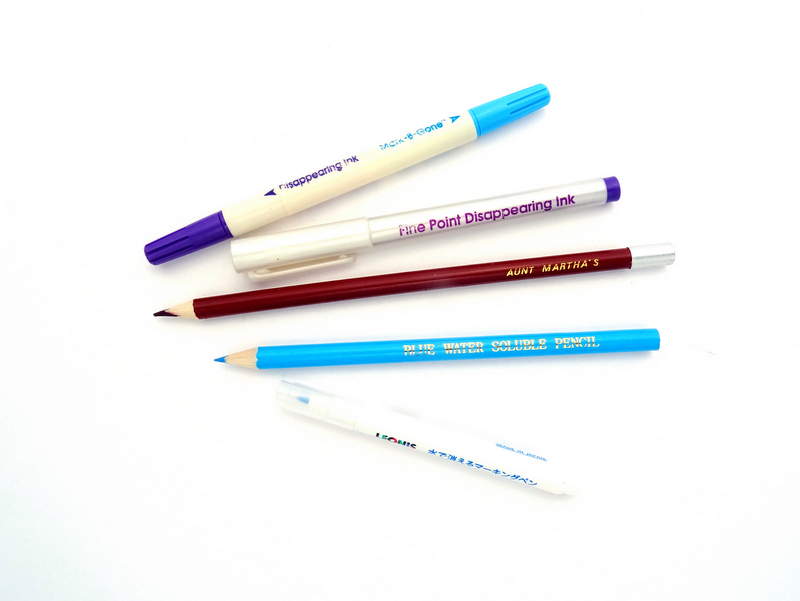 Fabric marking pens and pencils are available in an array of options. There are air-erasable pens and pencils that disappear over time, water-erasable pens and pencils that disappear with a dab of water, and even a special pencil used for iron-on transfer.

In general, I prefer pens over pencils for marking fabric. They tend to make sharper lines and are far easier to erase than pencils. In terms of air-erasable vs. water-erasable, because I sometimes spend up to a week working on one project, I have found that the air-erasable options disappear too fast for my needs. My very favorite marking pens are the Leonis Water Erasable Pens. They have a nice sharp tip, each pen lasts for a long time, and the ink is easy to wash away with just a bit of water.

For a more in-depth discussion of marking pens and their uses for tracing patterns onto fabric, see my post: How to Transfer Embroidery: 3 Simple Methods
Optional Hand Embroidery Supplies
You can successfully embroider almost anything with the supplies listed above, but here are a few more optional items:

Floss Organizer:
As your collection of embroidery floss grows you may find that an organizer box is a handy tool. You can buy a set of floss bobbins and use any type of box (a fishing tackle box works great). Or, you can purchase a special floss organizer that comes with bobbins and stickers to mark the floss numbers.
Floss Rings:
These are actually bookbinder rings, but they work well in tandem with floss bobbins for organizing floss. Since I am often embroidering more than one project at a time, I use these rings to keep my chosen floss for each project in one place.
Project Notebook or Spreadsheet:
I like to have a designated place to record notes regarding all my embroidery projects. I make notes on floss colors, stitch choices, and any changes I would make if I were to repeat the project.
Good Lighting:
Proper lighting is key for all embroidery projects. While a nice sunny window or an outside spot under a shade tree is ideal for embroidery, it's not always possible to use natural light. If you find yourself straining to see your stitches you may want to consider a small sewing light to illuminate your space. You don't have to spend a lot of money for a small sewing light. I like this small clampable desk lamp with a bendy gooseneck and an anti-glare LED bulb.
***Some of the items on this page are part of our Amazon affiliate store. Wandering Threads Embroidery is paid a small percentage if you click through and purchase an item. The prices are the same as buying directly from Amazon and the funds help cover the cost of running this site. Thanks for your support!